This is Moon's Treasure (Treasure). I adopted him on March 9, 2012, a few days after he was placed in the care of Florida TRAC, a non-profit thoroughbred retirement and adoptive care program. He was one of 11 horses that were originally picked up by the South Florida Society for the Prevention of Cruelty to Animals (SPCA) on March 5, 2012. They were in extremely bad shape and were emaciated and dehydrated. In addition, there were seven other horses found on the property that were already deceased. The SPCA brought the 11 horses back to their farm in Hialeah for rehabilitation. Florida TRAC went down the next day and picked up Moon's Treasure and I went as well.
I have never witnessed an abuse case up close. It is absolutely horrible and literally makes you sick to your stomach. That coupled with the anger you feel towards the people who allowed this to happen makes for some intense emotions. I pulled myself together and decided I wanted to give him a chance. I know what THRIVE Feed can do and I wanted him to reap the benefits. It has long been a dream of mine to help rescue and rehabilitate horses and this was my chance. I will also say that I am not sure who was more excited myself or Dale Moulton (mastermind developer of THRIVE Feed).
Moon's Treasure was dropped off at my barn on Friday and introduced to THRIVE Feed on Saturday. I am not sure what he must have thought when I put a whole bag in front of him, but I can assure you from the look that I got it was good. He stuck his whole head down into the feed and rummaged around, smelling, licking and chewing and looking at me as if to say, "Really, this is all for me?"  Dale had mentioned that he would do that and that it is good for a starved horse to be fed free choice not only for their mind, but their body as well. They get used to feed being there and they self regulate and will actually graze on their feed.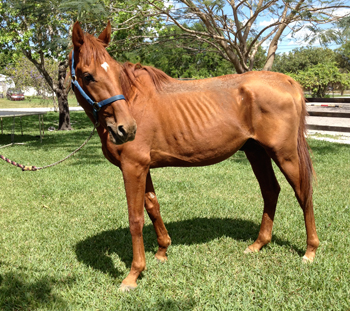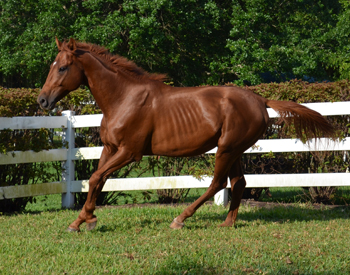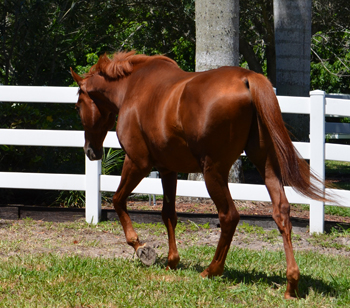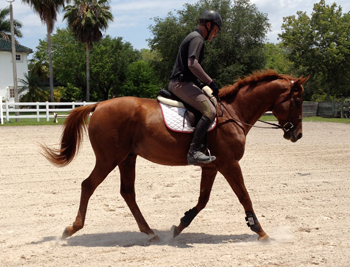 For the first six weeks he was going through a bag every two days. He has put on massive muscle and looks amazing. You can see the pictures with the timelines. He was fed free choice THRIVE Feed until he put the weight on that I wanted. He is now fed just like the other horses.
He is one of the coolest most levelheaded horses I have ever known. His stare as he looks at me is one of gratitude and thanks. It actually goes right through me. I can't say I have ever had a horse look at me the way he does. He is just such a complete joy to be around. He is so quiet and relaxed all the time. Every once in a while he will play and run when you turn him out where he probably never felt like doing much of that before, and boy does he love to sleep!
We had started doing some groundwork to start building up his strength and he has been great. We started that around week six. Treasure had his first ride eight weeks after he was found and adopted. We put the tack on and my trainer, Chris put a mounting block next to him, got on and rode around. He walks, trots, canters and even does lead changes in both directions (took him a little, but he got them).
This horse has become so trusting with us it is unreal. I too look forward to riding him. Chris has been riding him a few times a week and he is doing incredible. We will continue his training and hopefully he will be in the show ring soon. You can follow Moon's Treasure's continuing story and updates on facebook, twitter and our blog http://www.shootthepoop.com