As he can now show you "Results Mean Everything." He did not always look like that. For two years Billy battled diarrhea. He would be okay for a while and then relapse to another bout of diarrhea. It finally got so bad that I had him scoped by my vet. Unfortunately, Billy was diagnosed with not one or two, but several severe bleeding ulcers throughout his entire digestive system. He was immediately put on gastro/ulcer guard (a full tube once a day), doxycycline and misoprostol. At first Billy seemed to respond quite well to the meds and I felt like I could breathe.
After time he again started having diarrhea. I had not changed his food and was mixing the antibiotics with molasses to make it more palatable. I did not realize I was hurting not helping him. Prior to the scoping, we tried just about every feed on the market…from equine seniors to sweet feed to just simple pellets. We tried switching his hay to chopped hay to a simple soft orchard grass. Nothing seemed to work. I also tried psyllium husk products because he had been out on sand and that would help for a while, but then he relapsed. I had moved him around a few times and every time we moved stomach issues would reoccur.
I received advice from everyone and tried my hardest to get him better. It absolutely ripped my guts out and seeing him so sick made me very sad. I did not ride him, and I got to a point where I threw my hands up in the air and almost gave up. My trainer Chris and I had even discussed sending him to a farm where he could just be turned out and try to heal himself. My hopes for a show jumper went straight out the window…shoot at this point I just wanted him happy and most importantly healthy.
That night I sat down at my computer and started researching. I had to find a way to help Billy. I was once asked if there was one word to describe me what would it be? I answered tenacious. The exact definition of tenacious is persistent determination. So with that said, I deep down knew there was no way I would ever give up on Billy.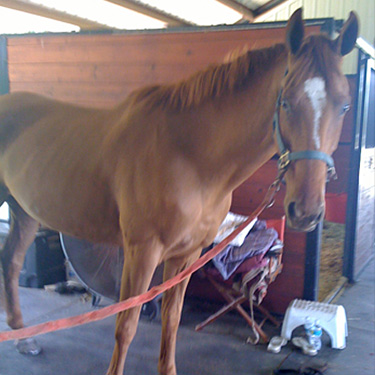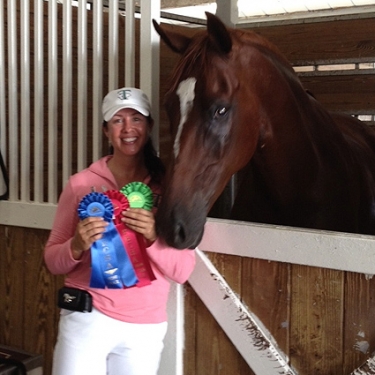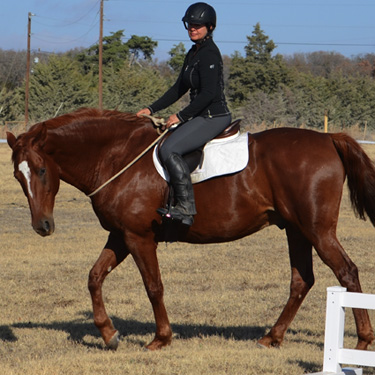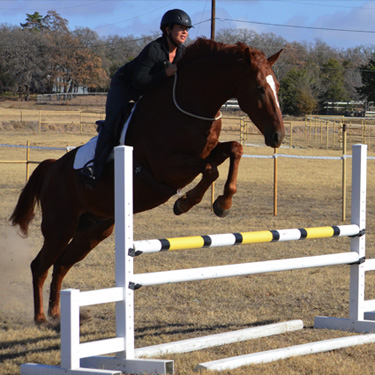 He entered my life at a time where I was about to give up on me. He was there for me everyday to pick me up and push me forward so how in the world could I give up on him? NOT happening.  So there I sat in front of my computer tenaciously researching horses, feeds, hays, ulcers, stress and the list goes on. I don't remember exactly what the search was I did, but I came across something very interesting…. THRIVE Feed and a horseman named Dale Moulton.
I quickly started to read every page taking it all in and getting very excited. Could this help? I hoped so. It just seemed so simple. A forage based feed that simply brought horses back to what nature intended. My programming in equine nutrition said, what about the protein content, how much fat and all the other information that had been fed to me throughout the years. I have worked and ridden at some of the top show jumper barns. I got my first pony in 1982 and have been around the block so to speak in my own right. I thought I had enough knowledge, but quickly reminded myself that was not working. Even the meds Billy had been on initially helped, but then he went back to where we started.
I found a contact number and started to dial. It rang and rang as I prayed for someone to answer. I was in the moment, had so many questions and wanted to talk to someone now. As I am thinking this I hear, " Hello, this is Dale Moulton with THRIVE Feed," in a wonderful Australian accent. I responded quickly and introduced myself. He said, "Well Lisa, how can I help you?"
With that we were off to the races. We talked for what seemed an eternity. We talked at length about Billy and all of his different protocols. We talked about Dale, where he got his knowledge, expertise and education. Quite impressive. We discussed how THRIVE Feed had been helpful and become am equine lifestyle for so many horses and people. From performance show horses to rescue horses. How vets were using it as maintenance therapy for colic cases and horses with ulcers, which so many of them have, just to name a few.
What I was so impressed with was that he took the time to educate me, get to know Billy, my horses and me. His main goal was to get Billy better so we could truly enjoy each other. I remember him saying, "Lisa, please trust me you have nothing to lose." Actually, I had everything to lose, but I knew what Dale meant. I was absolutely exhausted. I had tried everything I could think of. I did trust Dale completely. I knew exactly why. Dale's passion is immeasurable for these wonderful animals and knows no bounds. You can feel it right through your heart. He truly is amazing with an unbelievable gift that he is willing to share. I was and still am like a sponge trying to absorb as much information from Dale as I can and he is so eager to teach.  Dale sent me 10 bags to get Billy started. Before we began THRIVE Feed Dale advises me to take Billy off of all his medications including ulcerguard. We had eight days left and he had been on meds for 22 days. I was a little nervous but did as he suggested.
The feed came and I was thrilled. Per Dale's instructions I did not give Billy any grain for 24 hours, only hay, water and a mineral/salt block. After the initial 24 hours I introduced Billy to THRIVE Feed and boy did he love it! I noticed a difference immediately. After eight days of only being on THRIVE Feed we scoped him again. Not one ulcer. Billy was ready to get back to work, and I was on cloud nine.
I called Dale with the wonderful news and he could not have been happier. After that he started to tell me what was going to happen and the results we would see. For example, the lean muscle mass he was going to build, the top line he would develop, both increasing his core strength making him a stronger and more agile athlete. He also said THRIVE Feed nurtures a calm disposition (which was great because on occasion he would play and buck and now we know why=ulcers, he was uncomfortable). Billy jumped anyway, but I could not wait to see him after being on THRIVE Feed. Dale taught me how THRIVE Feed could be used as a very important tool in a good training program due to increased focus in your horse.
And to a T everything that Dale said happened and continues to on a daily basis. I remember when Chris had come out to see Billy for the first time since he had been on THRIVE Feed. It was about 3 weeks. Chris walked in the stall stood back and said, "Lisa this is not the same horse. Look at his neck, look at his shoulder, look at his topline, hind end, wholly cow he is huge and solid as a rock," (and Billy had not been ridden in two months). Our vet made similar remarks to the weight and muscle Billy had put on. Our farrier also makes a comment at how healthy Billy's hooves are and the great condition they are in and also the muscle he has added.
You can see for yourself in the before and after pictures I have included. I look at those pictures and it makes me so sad that he was so sick and unhealthy, but not anymore. Billy is such a joy to be around and ride. I am completely enjoying every day with him. It is so wonderful to really look forward to be with him. Billy (his show name is Trademark) went to his first horseshow at Heritage Horseshows in Plantation Acres Florida and was reserve champion in his hopeful jumper class. Yes, I am a very proud mom and loving every minute of it!
THRIVE Feed has changed my life forever as well as my horses. I am very much a believer especially after all the results I have seen first hand. The only feed in my feed room is hay and THRIVE Feed and lots of it. You simply can not put a price tag on having a truly healthy horse. Billy continues to do amazing and we have not had a problem since I began feeding him THRIVE Feed in August of 2011. No more meds, no more supplements, no more issues….just hay and THRIVE Feed and lots of love.
I would like to add a very special and sincere Thank You to my teacher, mentor, advisor and most importantly my friend Dale Moulton to whom without this story and so many others would not be possible. Thank you Dale from the bottom of my heart for your equally shared passion and dedication to an equine lifestyle in which all horses may THRIVE!
Sincerely,
Lisa & Billy

Please read our other success stories on horses that THRIVE. Especially, our newest addition Moon's Treasure….incredible.